---
Eligibility
Company must be registered/ incorporated in Singapore
Candidate must be minimum of 21 years old with at least 2 years of working experience
Candidate must be a new hire or existing employees nominated by an eligible participating company for the CCP
Candidate must not be in similar job role prior to joining CCP
Be committed to work with SBF on the necessary administrative matters
For New Hires
Company must offer the new hire a valid employment contract.
For Existing Employees
Affected Candidate would need to have at least 1 year of service with the company
(Redeployment) Candidate to be at immediate or short-term risk of redundancy
(Job Redesign/ Reskilling) Transformation must affect at least 50% of current job scope*.
*Job level and salary should not be lower than previous and where relevant; company should provide an increment (where possible) that commensurate the new role / responsibility if it is of a higher job value.
Programme

PMETs
= Professionals, Managers, Executives and Technicians, refer to SSOC Major Groups 1 to 3.
Click here
to access Singapore Standard Occupational Classification SSOC.
Rank and File (RnFs
) = Non-PMETs
Funding Support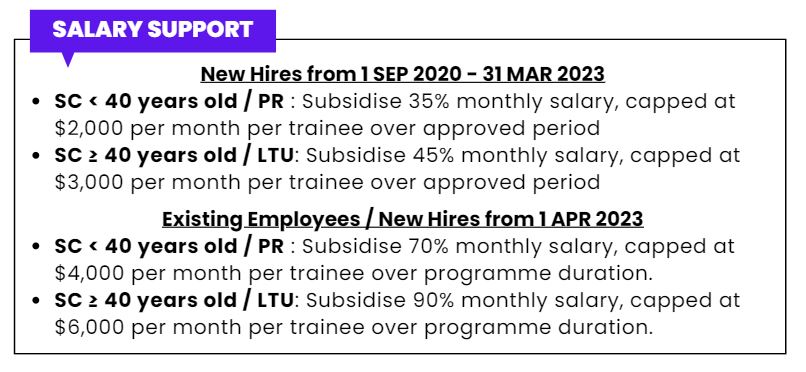 Contact Us
To sign up or find out more about the Career Conversion Programmes, please contact the Career Conversion Programme team using our Enquiry Form.
Strategic Partner