---
ELIGIBILITY
Company must be registered/ incorporated in Singapore
Candidate must be minimum of 21 years old with at least 2 years of working experience
Candidate must be a new hire or existing employees nominated by an eligible participating company for the CCP
Candidate must not be in similar job role prior to joining CCP
Be committed to work with SBF on the necessary administrative matters
For New Hires
Company must offer the new hire a PMET job and issue a valid employment contract.
For Existing Employees
Affected Candidate would need to have at least 1 year of service with the company
(Job Redesign/ Reskilling) Transformation must affect at least 50% of current job scope*.
*Job level and salary should not be lower than previous and where relevant; company should provide an increment (where possible) that commensurate the new role / responsibility if it is of a higher job value.
Programme

Trainee will need to undergo a minimum of two sustainability training programmes to be selected from WSG pre-approved list. On top of the training programmes, there will be mentorship component, where the trainee will be assigned to an industry expert to guide them on their sustainability plans which will be conducted within the duration of 3 half-days. A networking component is included within the programme, to allow the trainees gain a better perspective of sustainability upon their peers.
CCP-S Mentorship
The 3 half-day mentorship under this Career Conversion Programme for Sustainability Professionals aims to provide advice to trainees on the fundamental information, knowledge, and skills on sustainability (e.g Carbon management, Compliance requirements, etc).
This advisory will help trainees on how to kickstart their company's sustainability journey through guidance and discussion on their action plans for their sustainability projects.

The CCP-S's Mentorship Council was formed in July 2022. The primary roles for the Mentorship Council are to establish mentors' selection guidelines, guidelines for mentors to provide mentoring sessions, assessment or performance guidelines for mentors, provide technical advisory where applicable and review the list of mentors and the effectiveness of the mentorship programme.
Click here for the list of CCP-S Mentorship Council
Click here for the list of Mentors
Funding Support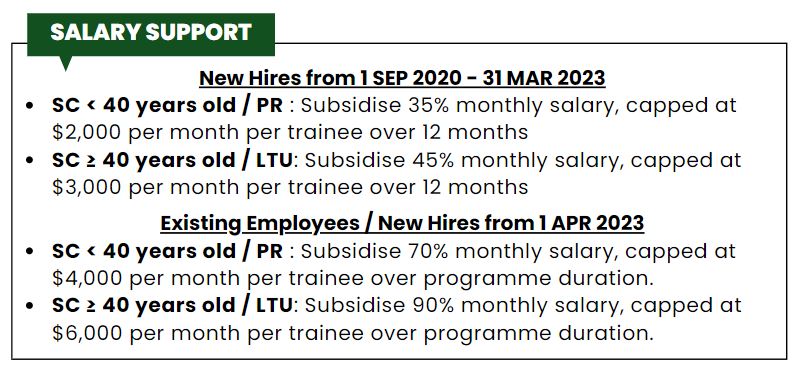 Should the trainee be employed between 1 Sep 2020 and 31 Mar 2023, the company may be entitled to receive the Jobs Growth Incentive.
Please refer to the following documents for more information:
Click here for the Slides on Career Conversion Programme for Sustainability Professionals : CCP-S Slides
Click here for the Brochure on Career Conversion Programme for Sustainability Professionals : CCP-S Brochure
Application
For companies with suitable candidates to apply for CCP-S, please click here.
Contact Us
To sign up or find out more about the Career Conversion Programmes, please contact the team using our Enquiry Form.
Strategic Partner