Depending on the challenges you are facing and the growth strategies that you would like to embark on, we have the formula curated specially for you.
Workshop Theme 1:
Design Thinking & Consumer Understanding
Participants will learn how companies could use design thinking to understand the consumer journey and work on generating ideas to value add to the customer experience.
Recommended: For those starting their growth journey.
Workshop Theme 2:
Product/Service Redesign
Participants will discover the various stages of process thinking when modifying an existing product or creating a new product. This process will help businesses validate if their product modifications will result in commercial success in the market.
Recommended: For those looking to reinvent their product and explore available options for product development.
Workshop Theme 3:
Brand Positioning & Marketing
Participants will gain insights into the importance of brand strategy and having a marketing plan as well as learn fundamental skills and knowledge to develop an event branding campaign by leveraging social media marketing.
Recommended: For those who require a brand strategy for their new product or are looking to reinvent their brand to stay relevant.
Participants can choose to go through the whole journey by selecting one workshop from each theme or sign up immediately to the theme they need guidance on.
Below are the selections of workshops under each theme: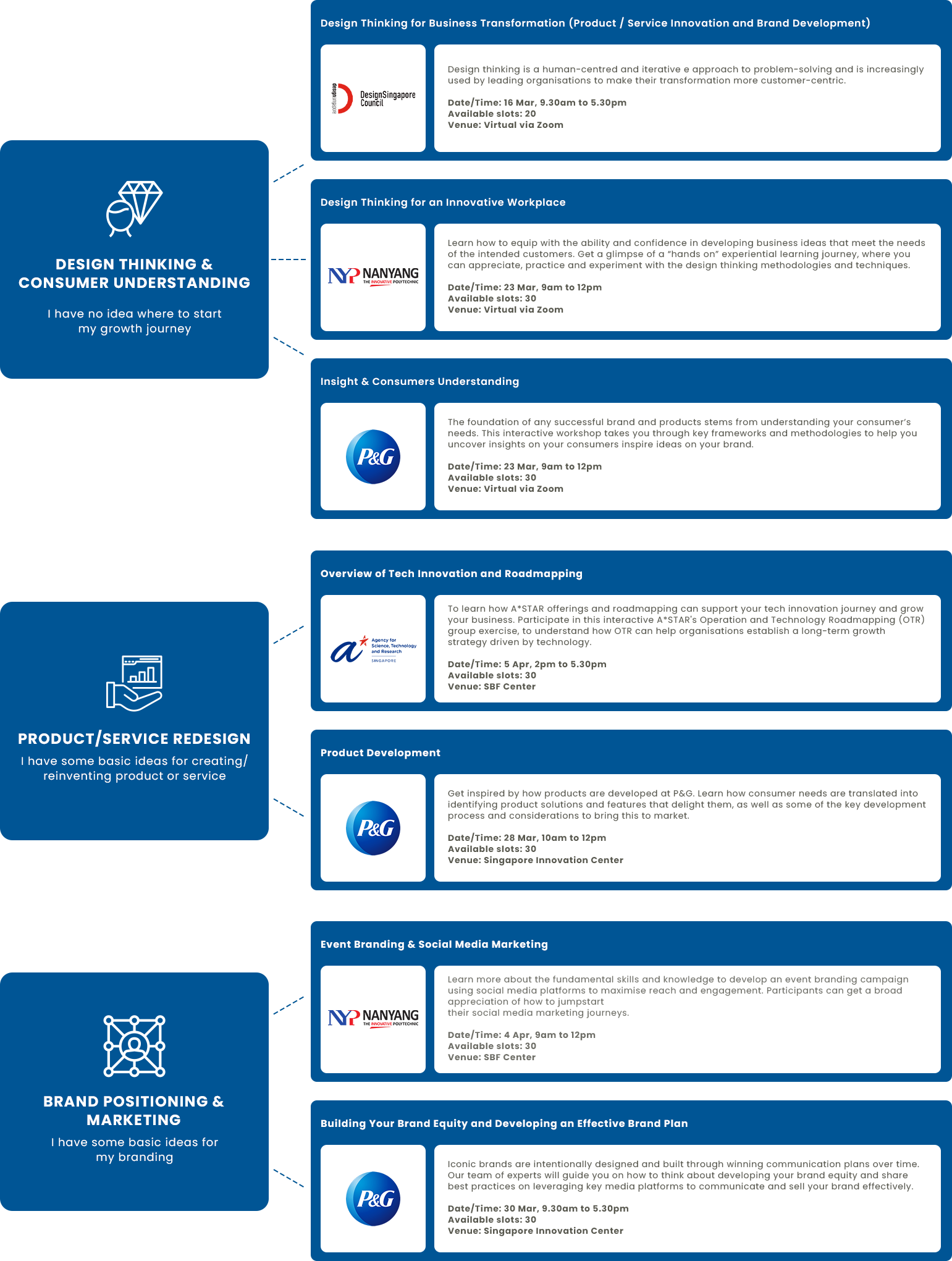 There are limited slots available for each workshop and the slots will be allocated on a first-come-first-serve basis.
These workshops are provided complimentary by our partners in support of the Singapore business community. SBF reserves the right to charge the full amount of the workshop's fees to participants in the event of a no-show. A confirmed participant is required to notify SBF and provide a replacement at least 48 hours prior to the workshop commencement date if he/she is unable to attend the workshop.
A*STAR Collaborative Commerce Marketplace (ACCM) is a one-stop collaborative online portal that facilitates business matching, partnership, tech innovation and business collaborations amongst platform members, especially SMEs. Key features include Partner Search, which facilitates co-innovation, joint ventures and technology licensing; and Events Listing, which allows members to leverage on ACCM's membership base to boost their event turn-out rates and to join events to deepen and widen their industry knowledge, as well as to network with like-minded professionals. This platform is available under Boost Up and you may sign up as a member here.